If you are getting married you will quite possibly have been planning your wedding for years. Weddings are of huge personal and social significance and everybody wants their day to be perfect. You have probably attended a friend's weddings in the last few years which will have given you a small insight into the planning, preparation and care that has gone into making the day special.
What can you do to make your day perfect? What can you do to make your day stand out? A wedding is a long event as often the ceremony will be at noon and the whole thing won't finish until midnight. While those twelve hours will whizz by for you, your guests won't find the time moves quite as quickly!
There are normally two times in the day where there is a lull. During these times great entertainment will stop the day becoming a drawn-out affair and instead, make it an event to remember.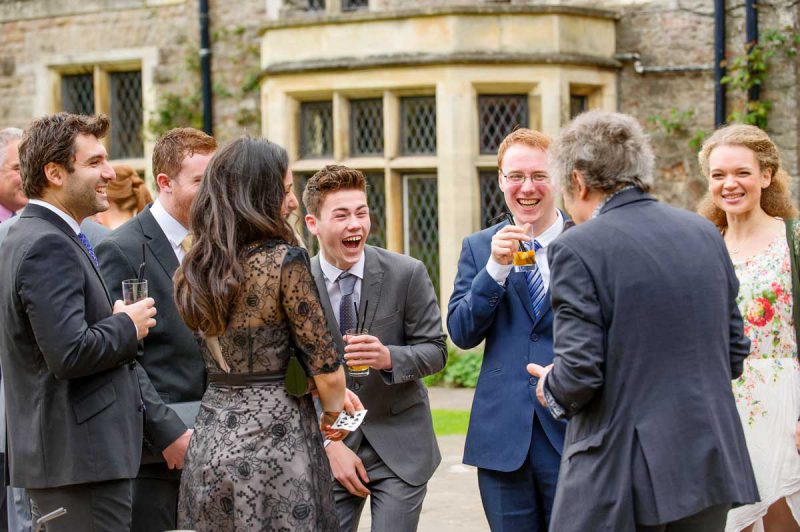 The two times where the day slows down is during the wedding photos and during the early evening, before the first dance. These are the times that guests are mingling, making small talk and generally sitting around waiting for something to happen!
There are several choices of wedding entertainment on offer these days ranging from a harpist to a photo booth. While background music is a great idea a live musician is often not interactive with the guests like a magician can be.
A magician will work with the guests, be non-intrusive and perform engaging magic making their day really memorable.
Close up magic happens in the hands or at a table and the reaction is amazing. These days people have probably seen a lot of magic on television as it is now one of the most popular programmes watched. When it is witnessed first-hand people find it unbelievable, not just because they know that there are no camera tricks but because they are doing the magic themselves, so no editing has taken place!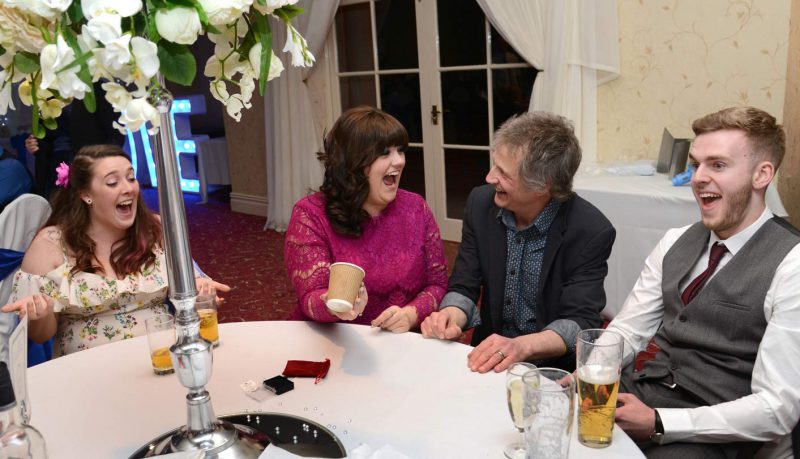 Another great benefit of having a wedding magician is the images that the photographer will capture. Wedding photographers love having a magician around as they know they will be able to get some great reaction photos that have not been set up beforehand.
Photos are one of the most important keepsakes of the day and you want them to be as varied as possible. While group photos of families and relatives are wonderful reminders of the day, pictures of your guests laughing in amazement and being blown away by magic will be priceless!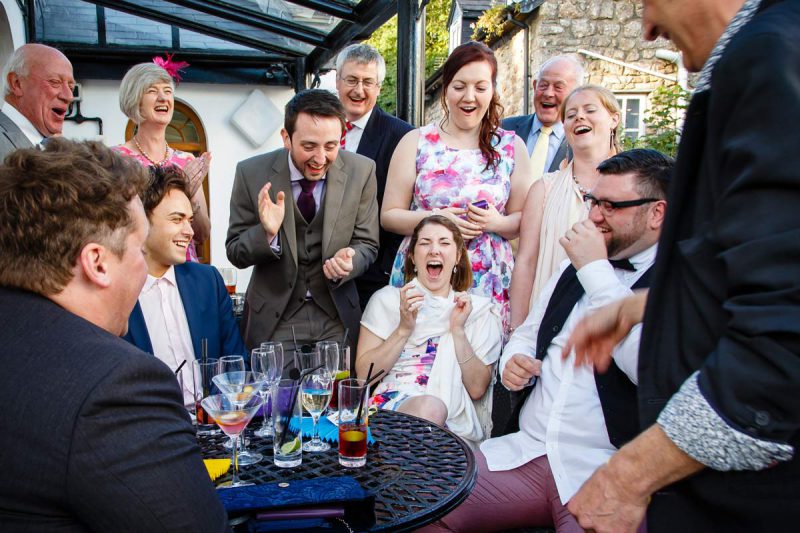 In a survey by Bride and Groom magazine almost 100% of brides (when asked after their wedding) said that they would have spent more of their budget on entertainment. Almost 80% would have made entertainment their priority.
I would imagine this statistic came about because as soon as anybody does something important they immediately want to do it again. And they want to do it better than before!
Wedding magic will create a great atmosphere at your wedding. There is nothing more satisfying than hearing, gasps, applause and screams (of excitement!) coming from tables throughout the venue. Reactions like these always make a fantastic atmosphere and you can be sure that your guests are having a really good time.
Luke